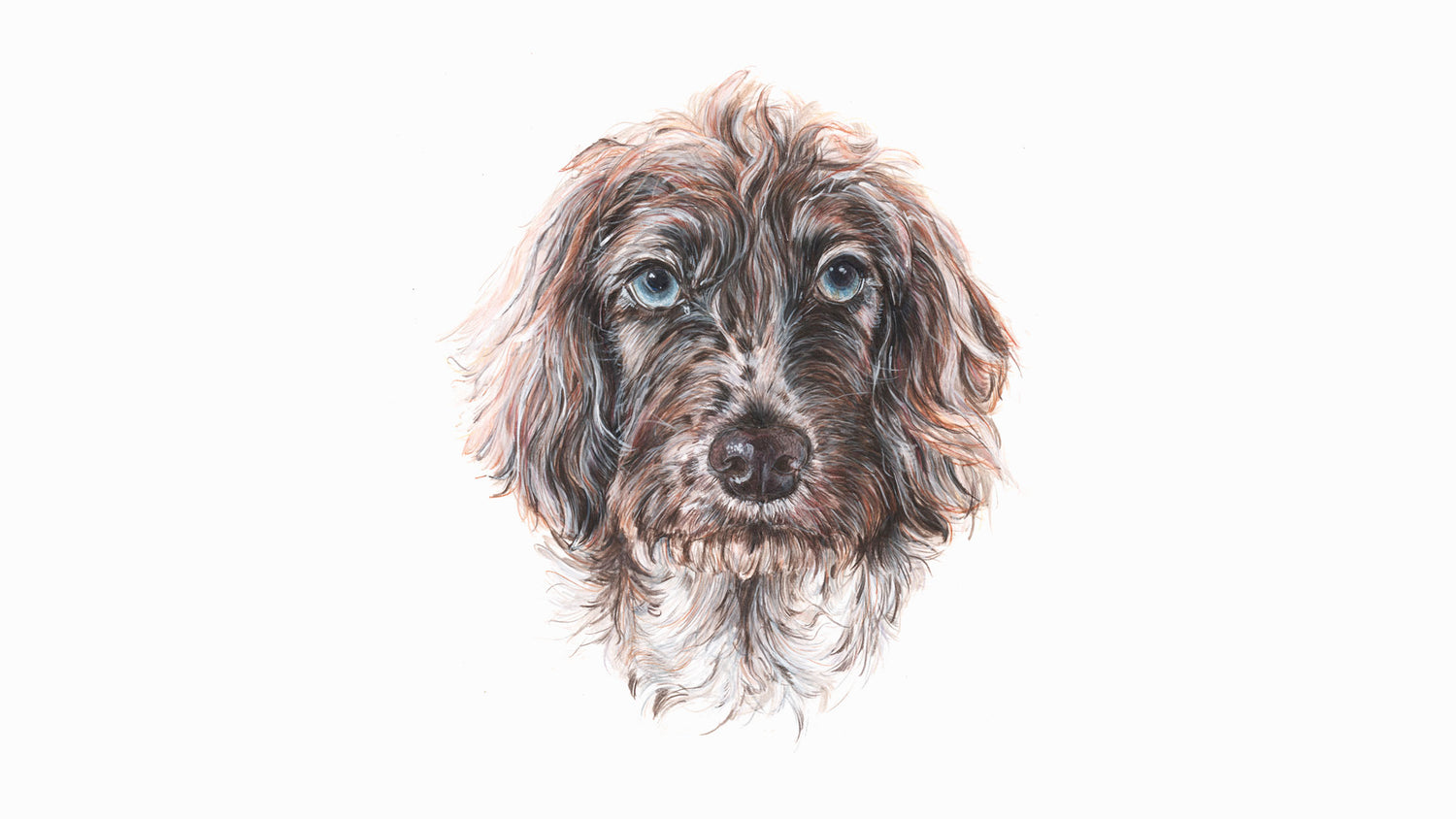 Hello, Kitty here.
Feel free to ask me any question. To save you time, here are the ones most frequently asked.
How to take the right picture?
The quality of your photo is really important and will go a long way to ensure I am able to produce the best possible piece for you. The higher the photo resolution, the more detailed the piece will be, though most smartphone photos will be OK. 
‍
If you are worried about getting the right angle that captures your dog, send a selection of photos. This
way I can form a better understanding of your dog and make sure I reflect that in my drawin
How long will I have to wait until the order is ready?
Turnaround time can vary depending on how many commissions I have. Usually I finish a portrait between 4 and 6 weeks after the order date, but it can be as little as 2 weeks.
‍
If there is a particular date you need the drawing completed by (e.g. a birthday, anniversary
etc), please let me know in the client form and I will try my hardest to accommodate your needs.
What size should I pick?
Choosing the right size for your drawing is important. Think about the size of your dog, and decide whether you want the whole dog or just head and shoulders. 
‍
I offer three sizes small (8x10), medium (12x12) and large (16x20).
Most of my portraits are done in medium (12x12) as I can accommodate nearly all dogs in this size. If you have a small dog and want only its head and shoulders, the smallest size (8x10), is likely to be the most suitable. 

On the other hand, if you have a larger dog, for example, a Lab, Malinois, DeerHound etc, then the larger size (16x20) would be preferable, as it enables me to fully capture them.
Do you draw multiple dogs on one page?
Yes, this is an option. However I am only able to do multiple drawings on my largest paper size 16 x 20. If you choose to have more than one dog in a painting, there will be a 30% addiditonal charge per subject.
‍
If you would prefer a custom size, please get in touch via email
Do you ship worldwide?
Yes, I use a secure global courier service to ensure that your drawings arrive safely. Size dependent, I send them flat in special non-bend cardboard packaging or rolled in a custom reinforced cardboard tube.
When will non-custom products be sent out?
Please allow 3-5 days for items such as cards to be sent out first class Royal Mail, tracked for the UK and Worldwide.
When will customised products be sent out?
Share information about your brand with your customers. Describe a product, make announcements, or welcome customers to your store.
Once I have placed my order, what happens next?
Once you have placed your order, you will receive a short form to complete online. This is the fun bit-it allows you to tell me all about your dogs unique and special qualities.
 
Once this has been completed, I will be in touch via email to confirm my approach, and completion date.
Is your packaging recycled?
All my packaging is made from recycled materials and can be recycled.
Do you offer coloured backgrounds?
I cannot offer coloured backgrounds.